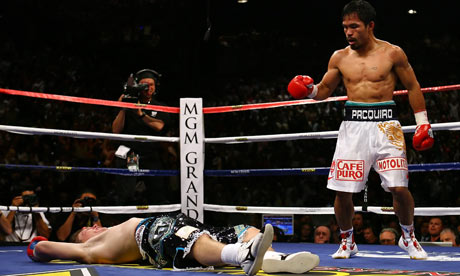 11:40 Get to house, turn on TV
11:41 Order Fight
11:41 Time Warner asks if I'm sure I want to buy fight
11:41 Time Warner asks me to press A if I want to buy or B if I want to cancel
11:42 Time Warner asks if I'm sure I want to buy fight.
11:42 Time Warner asks me to press A again to confirm purchase.
11:43 Fight finally turns on. :22 left in 2nd round
11:43 Pacquiao knocks Hatton the fuck out. The 2 of us who had already gotten to the house scream for 2 minutes about how awesome that was.
11:45 Larry Merchant (born 1931... really) is in ring to interview PacMan.
11:47 Larry Merchant puts together first sentence
11:50 PacMan finishes first sentence in response
11:55 Larry Merchant finishes 2nd question.
11:58 PacMan says he doesn't know if he will fight Mayweather (lies).
12:00 Post-fight coverage ends.
12:00 Wait for replay of fight since $50 was supposed to pay for coverage until 2AM.
12:01 Preview for WWE PPV comes on.
12:02 Preview for UFC PPV comes on.
12:03 Same WWE preview
12:04 Same UFC PPV
12:05 Take my shoe out of the middle of the TV screen.
12:06 To the bar!